I have to admit I am always looking for an excuse to play around with my food, and Halloween is the perfect excuse. Below is a roundup of my favorite gory food. I've tried most of them and I can guarantee they are not so hard to recreate.

This year, spook your diner guests with one of these.
Mummy hotdogs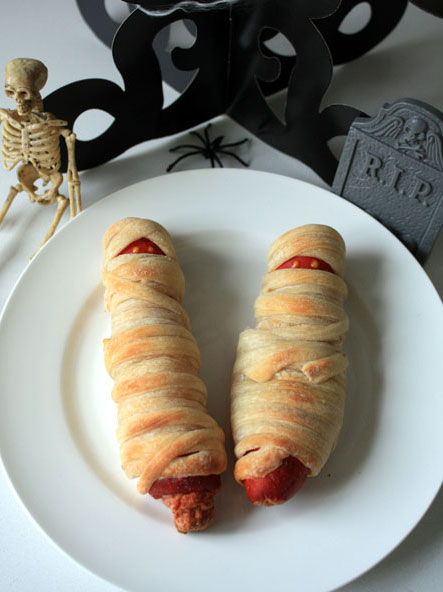 Super simple recipe. Just:
(1) make some dough,
(2) roll it out thin,
(3) cut it up in 6mm strips,
(4) wrap the hotdogs (artistically), making sure to keep a small part of the hotdog visible for the eyes. Pop it in the oven for 10 to 15 minutes and you're done.
Full recipe here.

These scary wiener's are a favorite of children and adults alike. Serve them with Ketchup or Mustard or even a bloody red spicy tomato sauce.
Disclaimer: The effect is better if you manage to draw eyes properly. Using mustard (As the recipe suggests) isn't good enough. You can try candy eyes perhaps or maybe even cloves.
Spider web pizza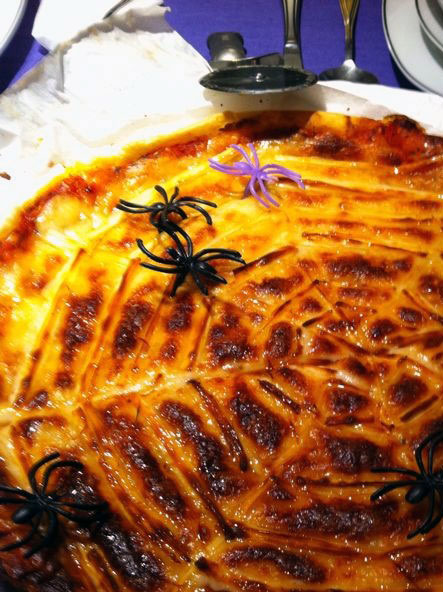 If you really don't have the time (don't tell anyone I said this), just:
(1) buy ready made pizza dough at the supermarket,
(2) make tomato sauce for the pizza (here's a good recipe by Jamie Oliver),
(3) pour the tomato sauce onto the rolled out dough and layer it with cheese (preferably mozarella based),
(4) Get some cheddar string cheese and draw a spider web
(5) then pop your pizza in the oven (should take less than 20 minutes).

Disclaimer: Just make sure you don't leave it a minute longer than it needs to cook or the cheese will turn to black.
Mummy dip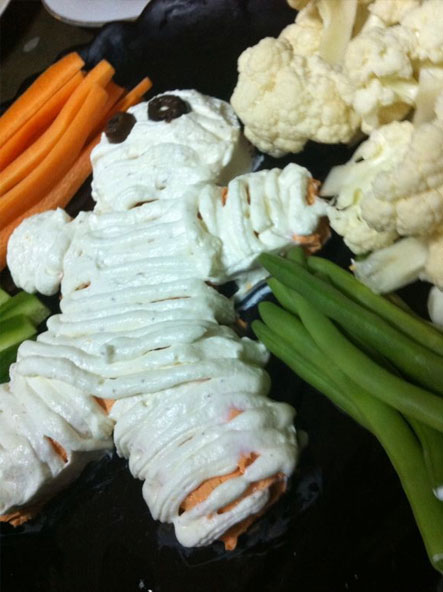 Make a dip for your chips and veggies by:
(1) mixing in some Labneh (to soften the dip but not too much), Philadelphia cream cheese, salt, pepper, some onions, maybe even avocado or tomatoes,
(2) Divide the dip in two,
(3) mix in some red coloring with the first half, and use gloves to create a body shape on your serving dish,
(4) Put the rest of the dip into an icing cone with a straight head and use it to layer the strips onto the body you just made,
(5) Keep some of the red dip visible where the eyes should go and use cut olives to make them.

Disclaimer: Nothing difficult here, just go for whichever dip mix you like and use the red coloring for the body.
Spider infested multi layered jello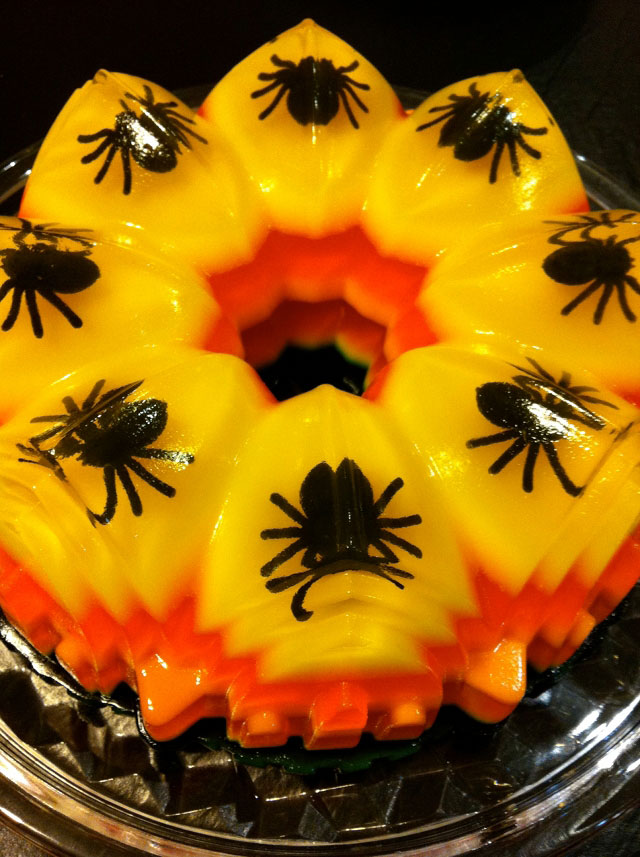 This recipe is harder than it looks, but it's totally worth it. Wait till you see your guests' faces as you bring out the multilayered jello with the fidgeting little spiders, just waiting to burst out. You can find plastic spiders in virtually any toy store, especially around halloween. The multilayered jello is achieved by:
(1) pouring slightly dense room temperature jello (use less water than what it says on the box – go for 1.25 cups of boiling water per pack) into a bun cake mold,
(2) putting it in the freezer to solidify for about 20 minutes,
(3) and repeating for every layer. Here's a video that you might find helpful.
Disclaimer: It's really tough to figure out when it's the right moment to add the new layer of jello. Make sure the liquid jello is at room temperature when you pour it on top of the solidified jello to avoid the boiling water melting it.
Apple bites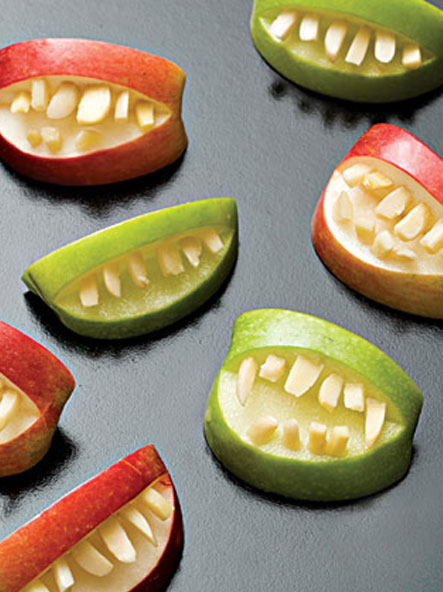 These are excellent in a salad with large green leafs and a mustard vinaigrette. Simply:
(1) quarter an apple,
(2) cut a wedge from the skin side of each quarter,
(3) rub the exposed part of the apple with a mix of lemon and water (to keep it from turning black),
(4) then press slivered almonds in place for teeth.
Disclaimer: Pressing the almond chunks into the apples may be tricky but it's totally worth it. The effect is truly unbelievable.
Monster eyes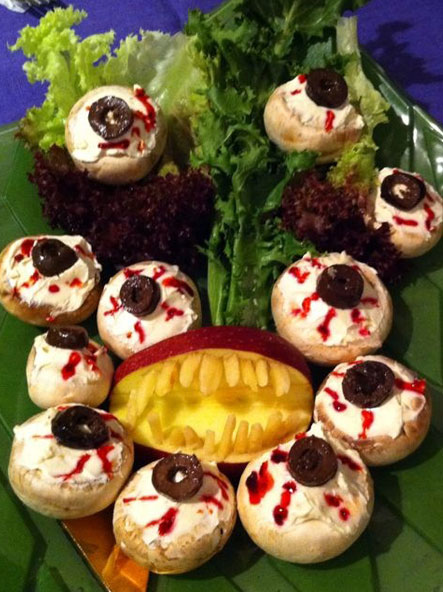 Another really simple recipe.
(1) Buy small sized mushrooms,
(2) cut the foot out,
(3) fill the mushrooms with soft cream cheese (possibly boursin, possibly garlic flavored),
(4) then use a knife, dipped in red coloring to draw bloody veins.
(5) Finally use sliced olives to create the iris.
Use these with the Apple bites to create the best effect.
Disclaimer: I've never tried it, but I think popping the Monster eyes into the oven for a few minutes might increase their taste value.