Yesterday, I cooked the best dish I have made in a while and the entire recipe was made from frozen foods. It was a Bisque aux pétoncles et légumes du printemps, a Scallop bisque with spring vegetables. Now this may not seem like such a shocker to most of you, but where I come from, eating frozen food is akin to sinning. My mother, her mother and all of our ancestors (yes I know the 'freezer' wasn't commercially available till the 40s) have prided themselves in only buying fresh produce. Our freezer was mostly used for making ice cubes and storing ice cream.
When I came to Paris, the land of everything closes at 7 PM and supermarket vegetables start perishing the moment you step into your house, frozen food was a life saver. It meant that on nights when I got home after closing time, I could still have a healthy meal rather than order pizza that would take an hour and a half to get here.
Over the past year, I have become semi obsessed with understanding which food is good or bad for me. I have subsequently stopped eating chicken, become a salmon nazi, refusing to eat it unless I know where it was raised and fished, and bid farewell to canned tomatoes. I have also become a great defender of frozen raw food and here is why:
1/ Frozen food is mature: Because fruits and veggies are immediately frozen after they are picked, they are allowed to ripen before harvesting. Those that you buy in the supermarket have often been picked before reaching their nutritional peak and ripen in the truck or plane transporting them to you.
2/ No additives: Freezing food preserves it. Full stop. No additives required. It also locks in the nutritional value of veggies, which will lose their nutrients progressively when they are stored in a fridge.
3/ They are time savers: Most frozen foods are already pre-washed and pre-cut leaving you to focus on the recipe, not the preparation.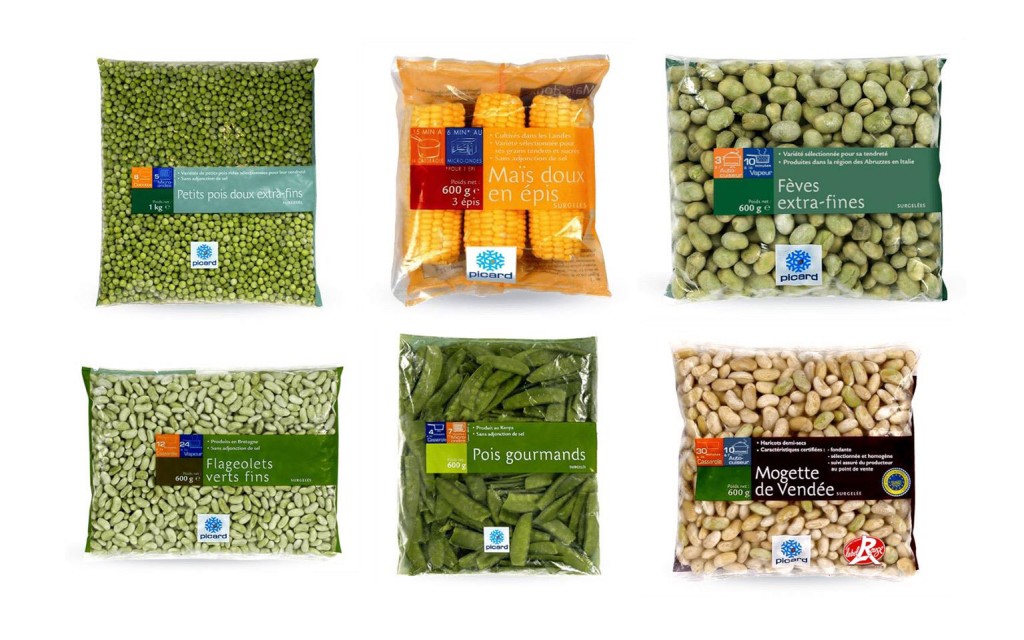 When it comes to frozen food, Picard is the king of kings. They have been around for 40 years this year and it is surely thanks to their impeccable quality standards. When you buy Picard you are mostly buying local produce, that is frozen in record time, and ready to cook. All the right kind of values. Let's put it this way, if Picard were a man, I would ask him to marry me.
Moving to frozen foods, especially frozen fish, the sin of sins, took a lot of courage. It was like breaking up with my mother, but I am glad I did it. And if you need more convincing, here is the recipe from yesterday. Try it and as I, you will be converted.
Bisque aux pétoncles et légumes du printemps
Ingredients: Total (for 6 people) | 32.80 €
Garden peas | 1.40 €
Carrots | 1.40 €
Zuchini | 1.70 €
Mushrooms | 1.60 €
Scallion | 2.95 €
Garlic | 2.80 €
Parsley | 1.20 €
Scallops | 11.50 €
Lemon butter sauce | 2.40 €
Shellfish sauce | 2.40 €
Thick fresh cream | 2.50 €
Lemon Juice (one lemon) | 1.00 €
Recipe
Place the Shellfish Sauce (4 or 5 portions) in a large pot and fill the pot with water half way.
Once the broth starts to simmer, poach the scallops for one minute then remove, drain, and place them in a large pyrex dish.
Put the carrots and peas in equal partS (roughly 100g each) in the broth and cook them for 10 minutes. Remove, drain and add them to the scallops. Save the broth to make the sauce.
Fry the onions in an oiled pan. Add garlic, sliced ​​mushrooms and chopped parsley as well as salt and pepper and cook the mix for 4 to 5 minutes.
In a saucepan, melt the lemon butter sauce (3 or 4 portions) over low heat. Add a tea spoon of flour and mix it in then add the lemon juice and cream.
Mix the scallops, peas, carrots, zucchini, and mushroom mix together. Season everything, sprinkle it with grated cheese, pour enough sauce to cover it, sprinkle with some more cheese and place it in the oven at 180C for 30 to 40 minutes.
You can serve it with rice or quinoa on the side, or simply as a chunky soup with some bread. A Rosé Bordeaux or a White Bourgogne will match this dish perfectly.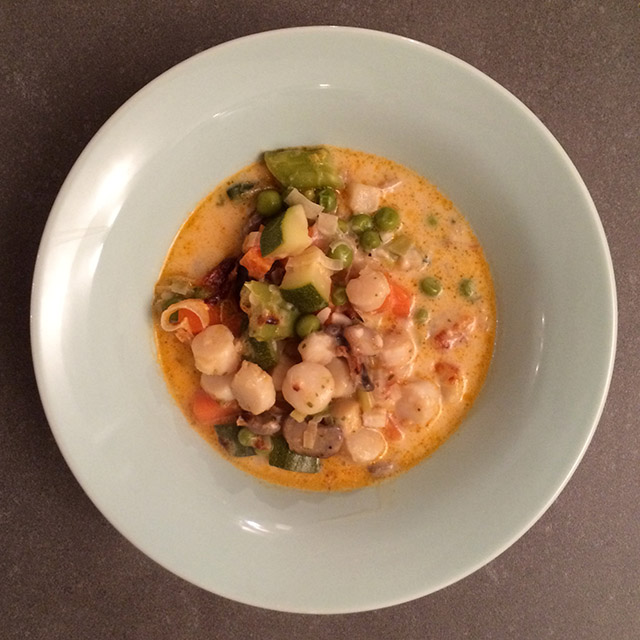 Bon Appétit!