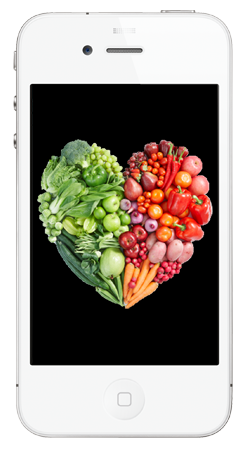 So here it is, my post about my two favorite things in the world;
I've been using i-phone / i-pad apps for my food hunting / eating / cooking purposes for a while now. I've rarely made a meal or booked a restaurant (abroad) without one and supermarket trips are so much better now that I don't have to awkwardly scratch words off of a list on a tiny piece of paper with a Bic pen that stopped working two weeks ago.
The way I see it i-phone apps for foodies can be organized in 5 categories:
The Recipe givers
The Cooking helpers
The Restaurant pickers
The Calorie counters
The Experience aggregators
The Recipe givers

Jamie-Oliver 20 min Recipes
This recipe application is by far my favorite and it's not just because I get to watch Jamie oliver over and over and over again. The amount of effort that was put in designing the interface and making it user friendly, even for non cooks, really pays off. A short list of quick yummy recipes with step by step recipes, shoppinglists and videos to show you some simple cooking techniques. Great app for beginners and advanced cooks alike.

Jamie-Oliver Recipes
Basically the same interface as the 20 minute app, but with recipes from a number of Jamie Oliver's books and the possibility for in-app purchases of additional recipes. Got it yet? I heart Jamie Oliver.




Epicurious
Epicurious is an encyclopedia of recipes and browsing the recipes is impossibly long if you don't already have a small idea of what you need. The best time to use Epicurious is when you have a specific dish or ingredient in mind and would like a recipe to go with that. I also love the add to shopping list button that comes with each recipe.



Foodgawker
Foodgawker is a really pretty application where finding recipes is all about browsing through beautiful image mosaics. Although its very visually appealing I dislike the fact that clicking on an image takes you to blogpost type content on a browser rather than a step by step recipe with tabs to go from images, to steps, to the list of ingredients.




All recipes
My favorite thing about this application has got to be the spinner. Basically you can pick a combination of Dishes (lunch, breakfast, desert…), ingredients (pasta, pork, vegetables…), and cooking time (20 minutes, over an hour…) and find matches that fit your combination. Otherwise this app has all the basics, a recipe box, an add to shopping list button but I think the interface should be improved.
The Cooking helpers

Shoplist free
This application was my first shopping list application and although I've been using it less and less, favoring the in app shopping lists of my recipe apps it still holds a special place in my heart and I particularly like the design. Although the free version does not include a database, you can go pro to have access to quite the database or just add the items to the app memory as you go.


Is it ready yet
As someone who usually cooks 5 dishes at the same time, I tend to forget to check on the meat that's in the oven more often than not, which usually results in me overcooking the dish I worked so hard for. This application solved that issue by providing me with quantifiable timeframes. All you need to do is input the type and weight of the meat you're cooking and you get a timeframe. Simple as that.



Grocery Gadget
In all honesty, I don't really use this application, but I found it quite helpful for people who live in North America thanks to it's barcode database. Just scan a barcode off a product and you get all the relevant information. Also the pro version allows you to sync grocery apps which can be great for couples.
The Restaurant pickers

Foursquare
Foursquare is one of my favorite apps of all time, foodie or no foodie, but when I found myself all alone in Paris for a few days Foursquare was my best friend. Thanks to its 'Explore' option foursquare guided me to great restaurants and cafes, based on the places I had checked into before.


Chefs feed
Another All american app, this one maps out some of the country's best Chefs' favorite places to eat from High end to fast food.
The Calorie counters

The Eatery
I haven't really used this app yet but the concept sounds appealing to me. Its an app that aims to improve your eating habits. Snap pictures of the foods you're eating, rate them for health and get report on how healthy your eating habits were the past week.
The Experience aggregators

Foodspotting
Foodpsotting is about dishes not restaurants. Discover the best dishes around you or share your favorite meals by snapping and uploading pictures.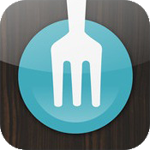 Forkly
Forkly is basically another Foodspotting, but instead of focusing solely on pictures it has a much more developed rating system which allows it to produce suggestions of other dishes you will like by building on what they call your 'taste graph'.