If you open the Curnonski or Escoffier cook book, you'll find sophisticated complex and rich meals that combine tradition and the know how of a skilled chef. It's tasty, its heavy, it bears a very long complex name.
Great Chefs like Alain Ducasse for example eventually changed radically the philosophy of what modern cuisine is. Modern cuisine is all about the product, have it slow cooked for hours or simply raw, what matters is how you magnify a product giving it something like super powers. It's like dressing a beautiful woman in a Dior outfit, it's magnificent because both are splendids.
Thierry Marx, chef of Le camelia and Le sur-mesure both restaurants of Le Mandarin Oriental, is taking this heritage to another level.
Thierry Marx's path in life has not been a summer walk. He was in the UN forces in Lebanon during the civil war. As a chef he's worked at all the great places but most of all, his Asian experience (Tokyo, Singapour, Hong Kong) and his original approach of molecular gastronomy have given him a very original approach of cooking. He has made the synthesis between modern occidental and oriental cuisine by using every technic at his disposal, including molecular gastronomy, to blow your pallet and senses.
Le mandarin Oriental is a famous hotel in Bangkok (Thailand) and it just opened less than a year ago in Paris, rue Saint Honoré, right next to the place Vendôme. It's a sophistically designed hotel, perfect home for fashionistas, jetsetters and demanding businessmen and women.
When Thierry Marx opened the "Sur mesure", the gastronomy restaurant of the hotel, I was a bit annoyed with the very exclusive approach. It is very expensive, very high end, and of course, impossible to get a table at. Since Thierry Marx started becoming famous thanks to his appearance in the cooking show "Top Chef", all this seemed a bit artificial.
Usually, I'm in love with simple and quality oriented place, why bother with another "bling, bling" address from another time (when there was no world wide economic crisis and few knew that simple can be delicious) ?
Then I was invited for a Sunday lunch by my mother, if you can believe that, at the other restaurant of the hotel: Le Camelia.
With spring on its way, you have to come and see the patio, even if just for a drink.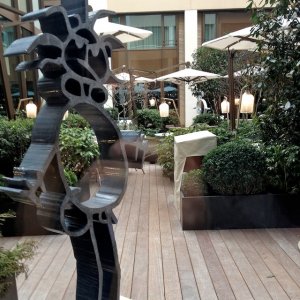 If you are hungry, as we are permanently, you can grab a bite in the dining room.
The place is organized around a bar where servers and commis are preparing the plates for the guests, as you could find in a Japanese sushi place. Decoration is very cosy and light, giant petals of leather that create something like an open cocoon surround each table.
Service is just perfect, fast and precise. Servers are nice and, they were all beautiful and nicely dressed.
As for the Meal you can get the usual starters and entrée or simply get one dish with a glass of excellent choice of wine.
Each dish is highlighting a product. The style is oriental but the feeling is very modern and the dish inspired by occidental cuisine.
We had the Tourteau, beautiful and delicate, and the Langoustines, more classical thai dish. Then l'agneau du Quercy, transcending the tradition, and the Japanese Style Dorade.
Everything was imaginative, perfectly done, subtile in taste and beautiful. But among every dish we had there is one thing I fell in love with: the turnip lemony ravioli.
Genius is often expressed in the simplest things. Imagine (or look at the picture) two thin round slices of glazed turnips enclosing a lemony cream. It was amazingly creative and delicate. The fish itself, even though very good, was shy in front of these three sexy Ravioles.
Nothing to say particularly about desert, you probably can skip that part if you're not an addict.
I will definitely come back to Le camellia, for a business lunch or a friendly diner. Even though the bill was a bit high, it was worth every penny.
| | |
| --- | --- |
| | |
| L'agneau du Quercy, Carré Roti et épaule confite, gnocchi truffé, fricassé de blettes, jus de mélilot | |
| | Le Batiano : Feuilletine croustillant praliné, ganache tendre au chocolat noir, biscuit chocolat et crème onctueuse au chocolat |
Restaurant info:
For reservation: +33 (0)1 70 98 74 00
Location: 251 rue Saint-Honoré, 75001 Paris
Website: www.mandarinoriental.fr/