Some years ago, something terrible happened in Paris: every restaurant owner decided Fooding, the concept invented by journalists Alexandre Cammas and Emanuel Rubin to express the liberation from conventional gastronomie and embrace a creative world inspired fun food experience, was in. This gave birth to the tasteless, pseudo trendy places that the Costes Brothers were so good at setting up. It all started with Hotel Costes and then Parisian streets were invaded by lame lounge-like bar-restaurant-night clubs.
The best you could get in these places were shrimp avocado cocktails, basil spring rolls and seared cod on wasabi cream, and of course, in the background, beautifully manufactured tall blond girls taking sips from a glass of champagne, eyeing open shirt fully shaved tall brokers (real estate or finance, your choice) at the bar.
A few years later, bored to hell with the food, restaurant owners embraced a new trend: earthy traditional local meals. suddenly, you could find a Boeuf Bourguignon at Le derrière (Momo's Paris joint, just behind Andy Wahloo) or a Mac&Cheese at La fidélité (Trendy Brasserie created by the famous graffiti artist André who also owns Le Baron night club, and the excellent Hotel Amour).
On a personal level, I'd take a good stew over a tasteless pseudo fusion salad any day of the week. However, after a few years of Souris d'agneau and Oeuf en Meurette, the consequence of this trend was the lack of creativity of chefs. You always ended up eating the same thing, got stuffed, and your stomach ached after each meal.
Ultimately came the new trend of Bistronomy! In a nutshell: creative quality food in a Bistrot at a fair price. If you ask me it's the best idea since the invention of Nouvelle Cuisine in the 70's! You get everything : the casualness and fun ambiance of a Café or a Bistrot along with a short, imaginative and highly qualitative menu.
From Belleville to the 18th arrondissement of Paris, through Bastille, Republique, you can walk by small unnoticeable places that look like regular cafés or snacks but are in fact Temples of this new "garage" cuisine.
Below is one of our favorite:
Le Café Qui Parle :
Le Café qui Parle is located just in front of Le Pain qui parle, the boulangerie that gave it its name. Indeed, one says that the fresh bread,  just out of the oven, talks (when the bread crust cracks).
The new owners made it a very cosy, casual place with a very interresting and creative menu:
Starters :
1/ Spanish grilled  mussels with the best iberic ham
2/ St Marcellin cheese and dry figs crumble
3/ "Petits gris" Hot Dog (Yes Petits gris are snails but this one is just delicious !)
4/ Creamy Celery Remoulade with Stone Crab and Apple Foam
5/ Home Smoked Eel with Beetroot Bortch (Polish soup) and Wasabi (écume de Wasabi in french)
Entrées :
1/ King Organic Prawns served with pomegranate and coriander risotto
2/ Roasted Rach of Lamb  with stewed sweetbread orange and aubergine (les ris en fricassée d'aubergine  "malataise")
3/ Grilled Rib Eye on bone marrow and a buttery mushroom cake (beautiful and delicious, but my photo was not clear enough)
4/ Crispy Pig Cheek served with pig trotter and carrots (Joues de Cochon croustillantes, pédicure  au jus de carotte d'antan, Amazing!
We had a fine Morgon wine to drink and deserts were imaginative and very good.
>/p>
We had a great time, food was delicious and the bill was extremely reasonable so I'm urging anyone visiting Paris in the next month to get a reservation at this nice Bistro.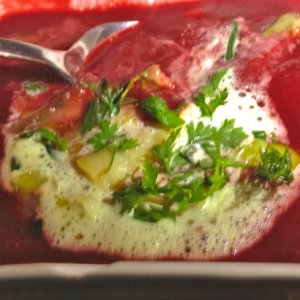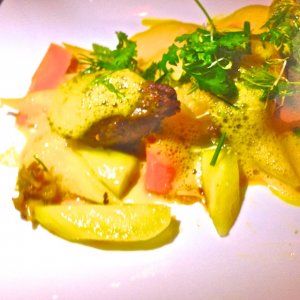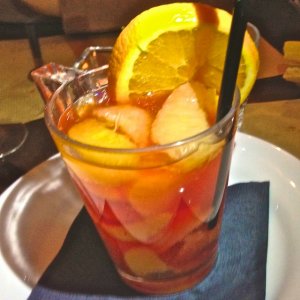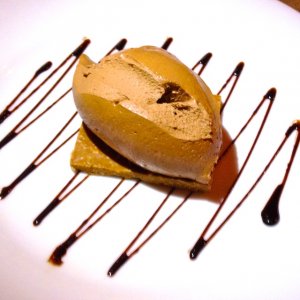 Restaurant info:
For reservation: +33 (0) 1 46 06 06 88
Location: 24 Rue Caulaincourt, 75018 Paris
Website: www.lecafequiparle.com/