I met Mr Heleiwa slightly more than a year ago during my first visit to Zabad. Those of you who are readers of the blog might remember that the restaurant was one of my favorites and part of my love for this eatery came from it's then manager, none other that Mr Heleiwa.
He was a passionate foodie and I never tired of listening to him explain that the olive oil was from the Chouf or that the bread was made using a recipe from the South, or that the vegetables were grown organically in the Damour. It was like bedtime storytelling. But where he really impressed me was his encyclopaedic knowledge of the Lebanese wine industry.
Before the opening of Zabad, Mr Heleiwa, who had just moved back from France, had taken a road trip, visiting every single local wine maker and making up his mind on the flourishing industry, with the number of wine producers having multiplied by 10 in the past 2 decades.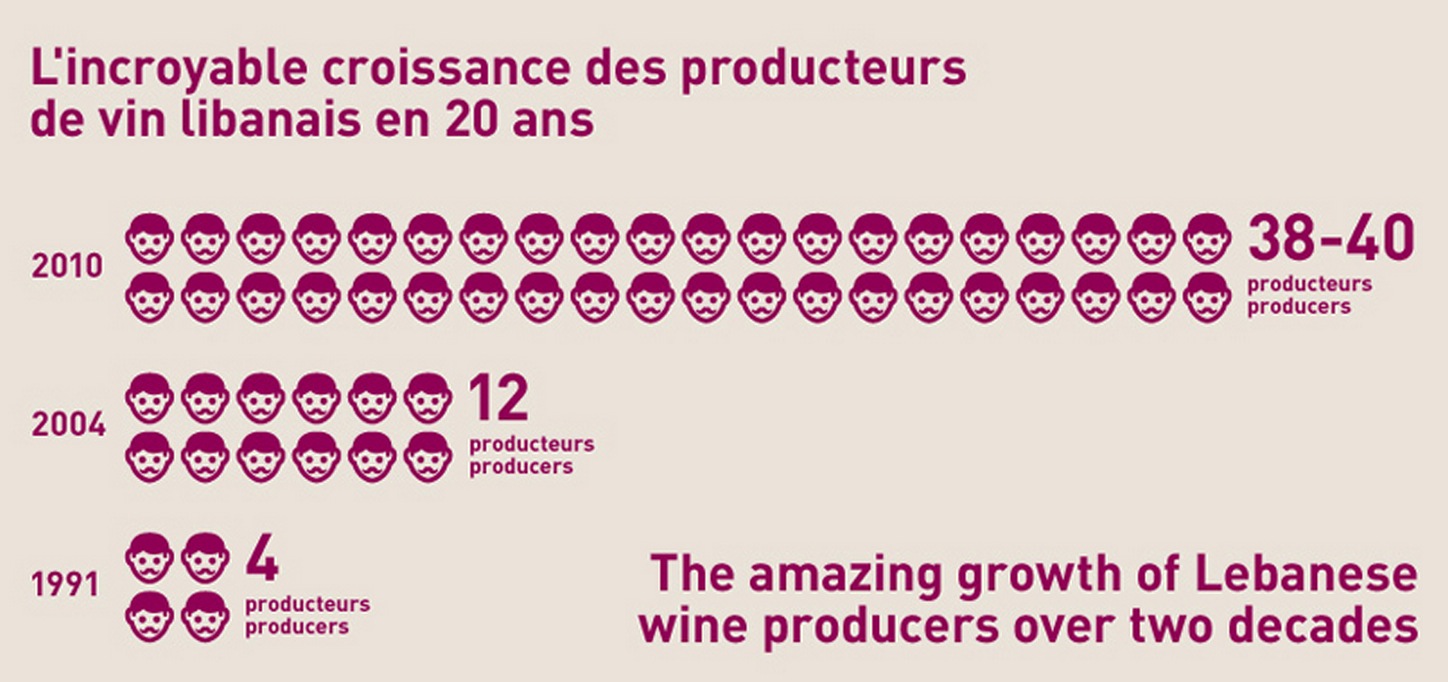 The amazing growth of Lebanese wine producers over two decades | © Zawaq 2012
Courtesy of Zawaq Wine guide. For more infographics visit their facebook page.
After Mr Heleiwa's contract with Zabad had ended and he was no longer to be found there, the place simply wasn't the same. I figured he had gone back to Paris. Little did I know that he was working on developing his own concept, The Hangout. Sitting in a 19th century Lebanese house, the restaurant/café is meant to make you feel comfortbale and right at home. The decoration is colourful and friendly, the high ceiling brings in alot of light, and the staff is competent and delightful.
I have sampled some of the Hangout's diverse menu and so far the grill items are the star items for me. Duck, prime rib, beef, sea bass, shrimp and salmon, perfectly cooked and seasoned. However, if I had to pick one reason to go there, it would be to sample an expertly chosen wine bottle on the beautiful terrace.
During my last visit to The Hangout I asked Salim a few questions about Lebanese wine and terroirs. Here is what he had to say.
Salim's selection: one wine for each of Lebanon's 7 terroirs.
South Lebanon- St John 2007
Jezzine | Karam Winery | Habib Karam
Captain Karam, as his friends call him, is not only a MEA pilot, but also a pioneer in South Lebanon. He has the only winery in this region. St John cuvee is a blend of Cabernet-Sauvignon, Syrah and Merlot, oak aged for more than a year. It gives a very fresh nose of violet and plums, deep blackcurrant in the mouth and a long lasting spicy after taste.
West Bekaa – Chateau Qanafar 2009
Kherbet Qanafar | Chateau Qanafar | Naim Family
Georges Naim is very meticulous in all that he does. After a long career in the oil business, he wanted to grow vines in his village of origin and it works!Chateau Qanafar 2009 is a very elegant blend of Cabernet-Sauvignon, Merlot and Syrah, where the very round Merlot seems to take over, giving soft tannins and a strong structure.
Central Bekaa – Chateau des Coteaux 2005
Jdita | Caves Nakad | Nakad Family
Joseph's Nakad grand son, Jalal Nakad is one of the most talented young wine producers in Lebanon. He makes wines very instinctively, and Chateau des Coteaux is one of these wines that tells you a lot about its producer. A red wine with a lot of freshness, full of nice red berries mixed with tobacco and leather aromas, deeply complex!
Northern Bekaa – Couvent Rouge 2010
Deir el Ahmar | Couvent Rouge | Charbel Fakhri
Fakhri is young and enthusiastic, so is his wine, crispy, punchy, straight to the point. Raspberry, blackcurrent, and a full mouth of red fruits, nice and soft peppery finish.
Metn – Château les Pins 2010
Khonchara | Caves du Monastere St Jean | Les Moines du Monastere
Pine trees are all around the Monastery vineyard leaving a soft resinous taste to the grapes which you can find in the wine. Plums and incense give this wine a unique character and remind us of its identity, a wine from an old monastery in the lebanese mountain.
Chouf – Monastere de Rechmaya 2009
Rechmaya | Adyar | l'Ordre Maronite Libanais
Powerful, spicy with a nice minerality not very common for red wines. Vanilla aromas a bit overwhelming at the end because of oak ageing, well balanced with a full mouth of dark red fruits. Rich, heavy, full bodied, very generous!
Northern Lebanon – Atibaia 2009
Batroun | Atibaia | Jean Massoud
Jean Massoud wanted the best for his first vintage. The result is great, beautiful tannins very well balanced with alcohol and acidity, a lot of deep red fruits, freshness, elegance, spiciness, nothing is missing, it's all in the bottle, all what a wine and a terroir can give you! Totally complete! The label is beautiful, Batroun is pinpointed on the map of the Lebanese shore.
More videos:
Mr Heleiwa's Biography:
I began my career in Monaco in the Hospitality business with the Societe des Bains de Mer where I used to work for the Purchasing Department buying alcohols and wines. This is how I discovered the SBM's beautiful cellar, one of the biggest in the world where I began to learn about wines.
The Societe des Bains de Mer is a state owned company in Monaco which has the monopoly of the casinos and the majority of the hotels of the Principality (Hotel de Paris, l'Ermitage, le Mirabeau, le Beach, le Tennis Club, le Golf Club, les Termes Marins, etc…). And so it was that I had the opportunity to work in some of these great hotels and their restaurants, notably in the Grill de l'Hotel de Paris where I used to train the sommelier team on foreign wines and cigars.
After this great experience I moved to the wine industry with the biggest wine marketer in the world, Ernest & Julio Gallo Winery, a California based winery that has vineyards in a lot of wine producing countries. I began in the sales Department, working in the French market, then moved into the marketing department as a Brand Ambassador. This position taught me a lot, as I had the opportunity to fly all over the wine world to see the wineries of the company in France, Italy, California, Argentine, Chile, South Africa, Australia, etc…
When you see so many vineyards, you have an urge to produce wines, this is when I moved to wine production in Languedoc and Cotes de Provence. I was trained in domains in the South of France.
I came back to the restaurant business in Paris then in Beirut when I opened for Karim Haidar Zabad in Zaitunay Bay, a Lebanese contemporary restaurant, before opening my own restaurant with 3 partners in Gemmayzeh, The Hangout, last December.