Last week I was invited to the opening of Empire Cinema's new Empire Premiere experience in the completely revamped Sodeco Cinemas. All I knew about the place was that it was another shot at another VIP theater and that the catering was courtesy of Sushi Bar. Those of you who follow the blog and the facebook page know that I have an undying love for Sushi Bar's food. Budget issues aside, I have always been a huge fan of their enthusiasm, originality and consistent quality. I wondered what it would be like to eat their sushi in a semi-dark room while watching a film but I promised myself I'd go there with an open mind.
Sushi at the cinema
I don't have anything against people eating while watching a film. In fact I refuse to go to the movies without the promise of popcorn and peanut M&M's and I wouldn't mind other alternatives, so long as they do not overwhelm my fellow movie goers. I was however a little puzzled by the choice of sushi, not to mention high end sushi like Sushi Bar's.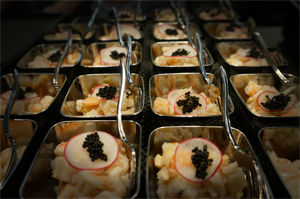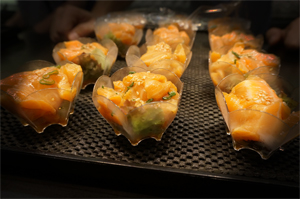 Eating sushi requires some level of focus and dexterity. You may well be a chopstick black belt, you still need to focus on picking one up, dipping it in soy, and finding your way to your mouth. These are all things you cannot do while keeping up with a film. More over, having a good meal is about more than just shoving food down your throat. It is a combination of company, context, the ability to share comments on what you are eating, and most importantly the capacity to actually look at what you are eating.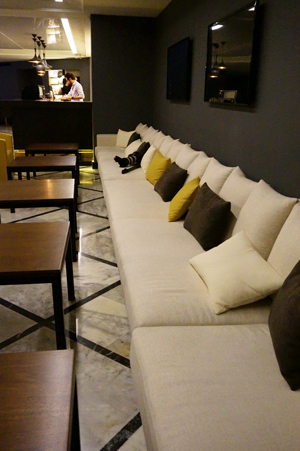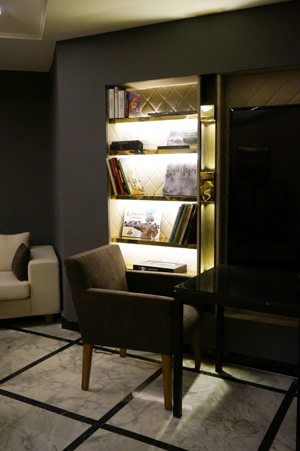 I brought up my concerns to the Marketing Manager of Sushi bar, and he reassured me that the idea was not necessarily to eat the Sushi during the film. Movie goers could come in a bit early and enjoy their dinner in one of the 3 seating areas (complete with couches, sushi bar and high tables) before catching the film.

The math adds up. The 6 theaters can sit 30 people each, and with 30 minutes delay between projections the seating area is big enough to fit most pre-movie sushi fans. The free wifi is a cool perk and I am also told flavored popcorn and Wasabi and green tea Kitkat is on the way.
La-z-boys and duvet covers at the movies
Each one of the cinemas is equipped with pairs of La-z-boys, separated by a small vertical panel. 30 all in all. Each person also has a personal pillow and duvet cover which are dry cleaned between uses. Almost feels like first class flying.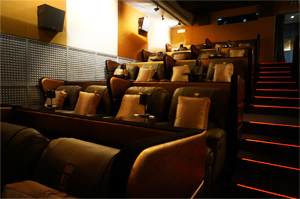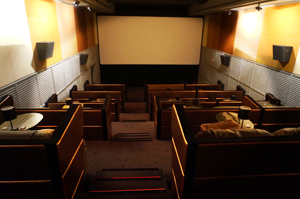 I am a big fan of La-z-boys and at home I never miss a chance to watch a good movie while lying down on my sofa hidden under a cover. This setting was exactly what the doctor ordered. Unlike others I didn't get sleepy lying horizontally on my big leather seat, feeding myself popcorn while I let Sir Hitchcock entertain me for the next couple of hours.
The rules of social conduct in VIP theaters
Because of how intimate the setting is, at some point you forget that you are in public. Towards the end of the movie I literally had to bring myself back to reality. I'm no prude but I didn't want all these strangers to see me lying down under my cover. Ten minutes before credits, I brought the chair back into upright position and lowered the cover over my legs. Having to be so self aware killed my buzz.

The second off putting part is that you feel like reacting out loud to the film is shunned. The movie going experience is usually a communal moment, where spectators can all share reactions to the film and the crackle of popcorn. At the VIP theater you feel like you are invading someone's living room, maybe because the Sodeco cinemas have such small range and subsequently relatively small screens. The whole things feels more like a spectacular home theater experience than an augmented cinematic experience.

The choice of film only increased that awkwardness. Hitchcock is centered around the making of Psycho, Alfred Hitchcock's most recognizable film. The film ends on the first public screening of Psycho, Alfred waits in the lobby for the audience's reaction and is rewarded with a very enthusiastic reception. The film goes back and forth between Mr Hitchcock and the audience as it screams and laughs in unison in reaction to the infamous shower scene. The screen felt like it had been transformed into a giant mirror. On one end, a large audience reacts widely to a horror scene, while on the other a silent audience lays horizontally, almost in opposition.
Stepping back into the real world
When I was a teenager, Sodeco was the happening place. We counted the minutes on friday afternoon until the bell would ring and we would rush towards the school exit and down to Sodeco Square. We went there to watch movies. We went there to hang out. We went there to shop. We went there to hold hands with our beardless boyfriends.
With the passing years, this magical place of our childhood lost its appeal, and the fluorescent lights that used to bathe our adolescent loves became unbearable. Every time I pass by the now desolate mall my heart squeezes.
I guess the most awkward moment of my visit to Empire Premiere, was when I stepped out of the gold painted space into the white glow of the empty mall. However much I appreciate Empire Cinema's attempt at reviving the cinema, instead of simply shutting down what must have been a wailing operation, I couldn't help but wonder how someone who had just spent 20$ for a movie ticket and at least twice as much on sushi should feel as they walked up the glittery stairs and stepped onto the old gray cladding. Maybe more should be done if Empire are to save the old commercial space.
VIP theaters, yay or nay?
I don't know if I have made my mind up on luxury cinemas. Although I might consider this option for dinner & a movie dates with my boyfriend, I doubt it will replace the regular cinema going experience. Maybe all in all they are utterly different activities. I would still rather see blockbusters, action movies, grand hollywood productions in regular cinemas. After all, half of the fun is in being part of an audience. Ironically, I think I would rather see art films in the more isolated and reflective space of a luxury cinema, with a glass of wine and light diner.