About a year ago, I was having a conversation with my friend Cyril about what it would be like to revisit Lebanese cooking with a modern approach. Someone we knew had been approached by a promoter to create a new concept of Lebanese cuisine.
I come from a long line of Lebanese Mamas (mothers, grandmothers, aunts and cousins) that can roll vine leaves like there's no tomorrow. We still use vegetable grease for cooking meat and my mother never met an animal fat she didn't like. Cyril has a Lebanese father but was born and bred in France and Africa.
You can imagine our visions were slightly off to start with. I was more into going for a reinterpretation of what we call the poor man's food (stews, earthy salads, beans…) and he was much more adventurous, thinking of introducing entirely strange ingredients and cooking methods. We ended up agreeing that it would have to be molecular gastronomy. Little spheres of cinnamon and cumin extracts, arak mousse and watermelon caviar with Halloumi.
Of course we also both agreed that the Lebanese public would never be this experimental, even less so regarding their culinary heritage and I believe this was a wise assessment.
The less experimental of you can rest assured, Zabad does not offer a molecular reinterpretation of the tabbouleh. Instead, they offer modern representations of traditional dishes and flavors, and some entirely new dishes that are concocted using beautiful local ingredients.
At Zabad, the oil is from the Chouf, the bread from the South, the organic fruits and vegetables from Damour, and almost everything down to the fabric of the furniture (made in Sour) is Local. Even the music playlist. The most heartwarming of all is the list of Lebanese wines, subdivided by terroir and representative of nearly all 40 Lebanese wineries currently operating.
What we ordered:
Starters: The 10/10, Selection of 3 purées, Pumpkin Kebbeh, Cinnamon Falafels with basil and honey sauce (the same infamous sauce that is served at the Liza in Paris), Fried potatoes with various sauces.
Main dish: Lamb Shanks (braised for 20 hours) and rice with 5 sweet spices, Lamb chops with vegetable burghul, Mixed Grill.
Desert: Chocolat fondue, Atayef, Cripsy Ashta
Wine: Chateau Khoury, Chateau Symphonie, 2006
Bill: Approx $200 / L.L. 300,000 for 3 people including alcohol worth $65
Now for the tasting part.
Start by savoring the pictures below: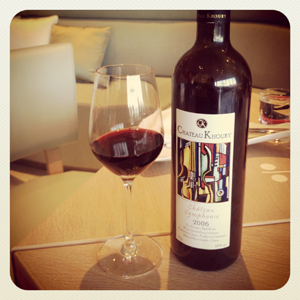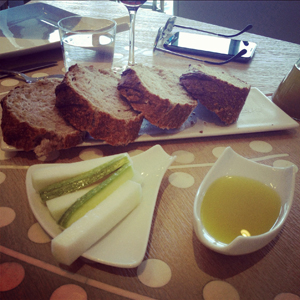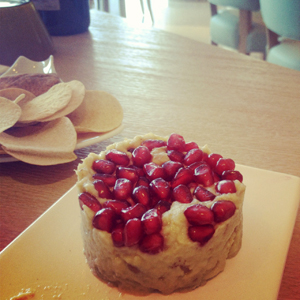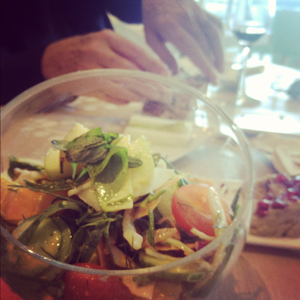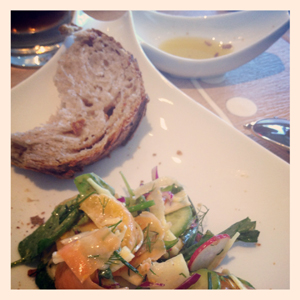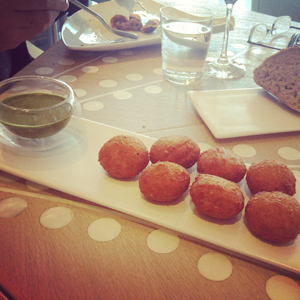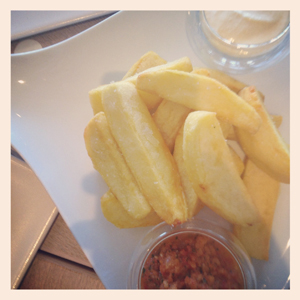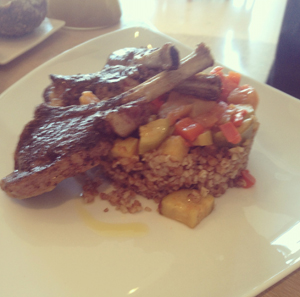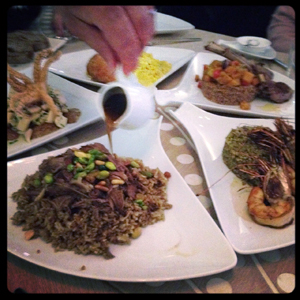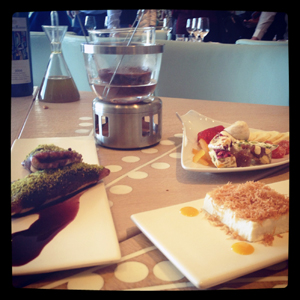 The food was, to my palate, absolutely perfect. Some dishes, like the 10/10 carried me to a new universe of tastes and textures. Others, like the 20 hour braised Lamb Shanks was reminiscent of holiday food, preferably had with 30 members of an extended family I didn't know I had.
The moghrabieh, admittedly, is not a moghrabieh, but the chicken is the yummiest, moistest chicken I've ever had. I would gladly go back there just to eat that even though I swore off chicken a year ago and only had a taste of this one because the restaurant's manager explained that it was roasted first then dipped in batter and deep fried for less than a minute.
In that sense Zabad has integrated the more occidental (Read french) culinary techniques. Braising, roasting, fruit vinaigrettes and obviously the presentation are widely inspired by Modern French Cuisine, a welcome step in the reinterpretation of a Lebanese cuisine that spends more time on preparation (cutting, rolling, dicing…) than on cooking.
In the spirit of this approach (here comes my only negative comment) I would remove the dish of grilled skewers for the menu, an evident compromise with a Lebanese Audience that would shriek at the sight of a Lebanese menu without mixed grills. An unnecessary compromise if you ask me.
A special mention goes to the Manager, Mr. Salim Halewe, one of the more competent restaurant managers I have seen in Lebanon in a long time. He knows his wine list like the back of his hand and is always eager to explain in thorough detail the preparation methods and ingredients used for the dishes served at Zabad. On most days he will offer you an extra glass of wine to accompany desert or a shot of Mastika to finish off a perfect meal.
Restaurant info:
Zabad has unfortunately closed. The wonderful Manager however has moved on to open his own restaurant, The Hangout in Gemmayze. If nothing else go there to hear him talk about Lebanese wine.