Lovingly illustrated by my dear friend Suzanne Anhoury.
Zaatar
There is always a very big debate about which kind of Zaatar (thyme) is better. My mom swears by Lebanese Zaatar (the brown one) and I can't get enough of the Jordian (the green one) while my boyfriend would kill for the Aleppine kind (the red one)(no pun intended).
Sumac
There is no spice in the world that has the sour lemony taste of sumac, and no Fattoush that is complete without it. You will need it for "Lebanese dinner", you know that one time in your whole expat existence when you invite your (input occidental nationality here) friends to sample the goods of your homeland. Good news is, if stored in a dry place, Sumac will probably last longer than the apartment you first move into.
Sweet Pepper
Lebanon is the only place I've ever seen this kind of pepper. Used in most salads and stews, this pepper will add some taste without the sting of other types of pepper.
7 Spices
A list of things that can be sprinkled would not be complete without the good old 7 spices mix. It has ground black pepper, paprika, cumin, coriander, cloves, nutmeg, cinnamon, and cardamom. I usually use it to make hamburger patties and (to my mother's biggest disappointment) i love to use it when making tabbouleh.
Turkish Coffee
I'm not a turkish coffee drinker, but in the list of powdery goods, I'm sure this black dust makes it to the top of everybody's list. I will be bringing some for when my mom visits (you do not want to experience my mom's mood when she hasn't had her morning rakwe (pot).
Rakwa
Speaking of which (see above) do not leave the homeland without one of these. It is of course impossible to properly brew the coffe without it and I have friends who have gone on crusades trying to find a rakwa in Paris (of all places). Consider yourself warned.
Debs el remman
Grenadine molasses are another essential for a home sick tummy. Used in salads as well as cooking meat, this is one ingredient you won't regret having carried in a sticky glass bottle wrapped in bubble wrap and 5 'security' plastic bags.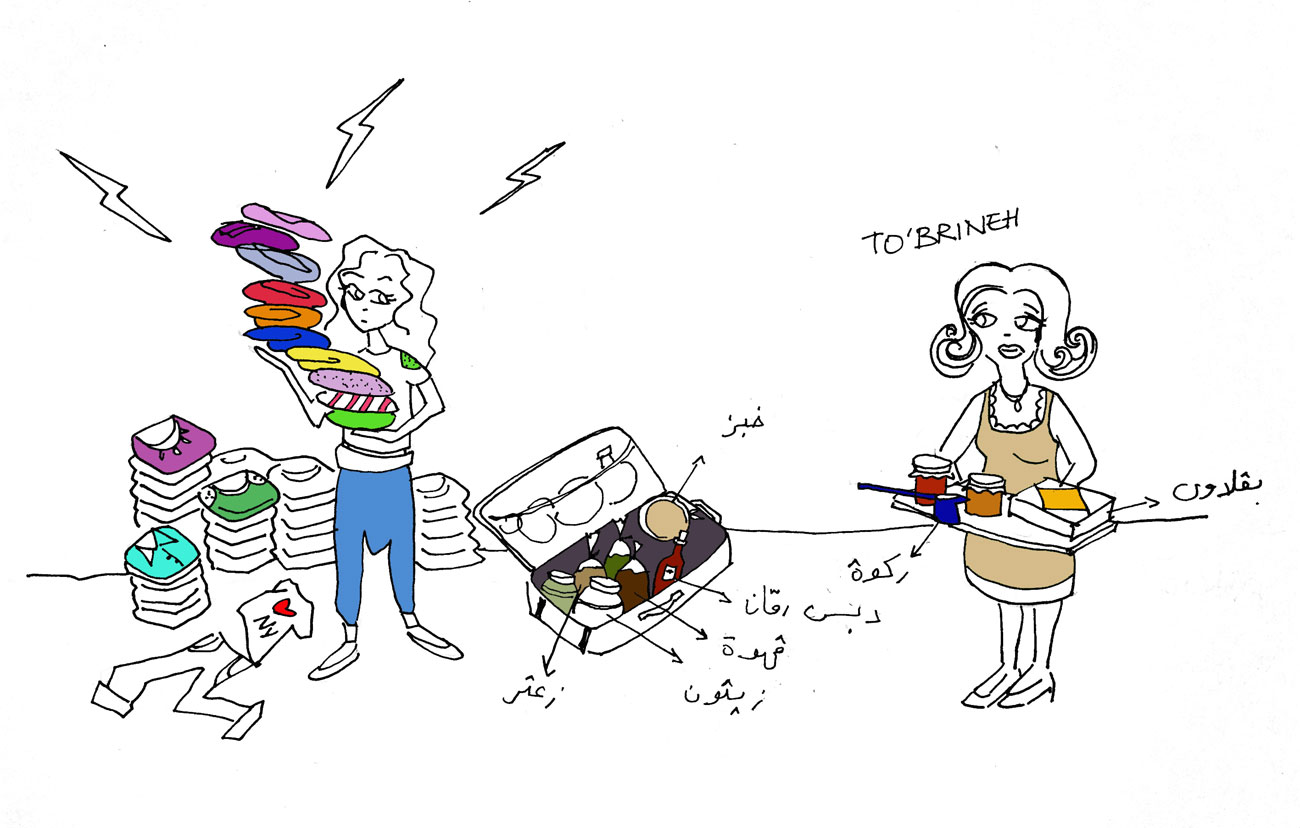 Olives
If like me you have tried every single type of olive types and pickling techniques known to mankind yet your heart has settled on the way they make them back home, new green olives, crushed with salt, that preserve their crunch and bitterness, you will simply have to take some with you. Do as my mom does and stick them in the freezer; they will outlive you. Take them out of the freezer, drizzle them with some olive oil and enjoy them with your (homemade) labneh and that half-cucumber you shamefully bought at the Monoprix.
Manakish
The Thyme Pizza as some refer to it. You will never find anyone in the whole world who makes it better that the furran (baker) you are accustomed to. The good news is you can order a stack of manakish, freeze them, and greedily eat them throughout the year, half a mankoushe (single of manakish)at a time, potentially with that left over labneh.
Bzourat
Mixed Nuts Extra is the kind you are aiming for. Order them from the shop owner in small 1/2 Kilo bags and toss them in the freezer to keep the olives and manakish company. You will need them for nights when you'll come home and there's nothing to eat so you drown your misery in whiskey and pistachios as well as the expat dinner thing (see Sumac for clarifications).
Pita bread
Of course pita bread is sold in many a place around the world, but for some odd reason no one seems to be able to get the thickness right. Another one for the freezer.
Mloukhiye
Two years ago no amount of money in the world would have made me eat the green, slimy soup. Nowadays I can't get enough og hte stuff. Corchorus or Lebanese spinach, chopped and made into a soup, poured over layers of rice, chicken, meat, grilled pita bread, and topped with a mix of vinager and chopped onions. I'm drooling as we speak.
Beklewa
No lebanese expat's shopping list is complete without some yummy baklava. Although traditionally a turkish delicacy, I find the balance of sugar and nuts in the Lebanese version unmatched. Bring some to the workplace and enjoy watching your coworkers silently approaching your desk to steal another piece.
I'd love to hear from you guys on the tastes you miss the most, and the items you stuff in your luggage or rush to buy before heading for the airport.